22. June 2021
Schwanog Escomatic Tools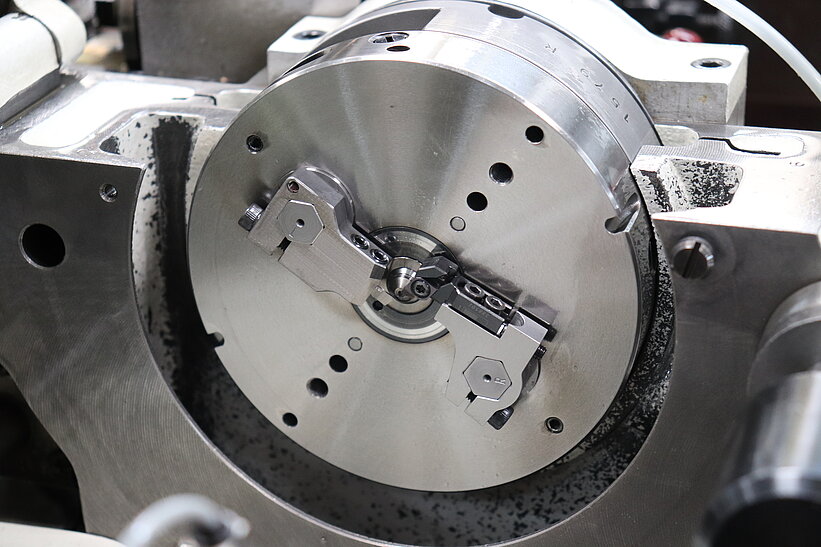 The Haller-Jauch company was founded over 100 years ago and has earned an excellent reputation on the market as a specialist in the manufacture of micro-turned parts and power springs. In the field of contract manufacturing of micro-turned parts, Haller-Jauch uses mainly Escomatic machines with the latest technology. Given these conditions, Haller-Jauch is not only an ideal customer for our company, but also offers perfect conditions for a comprehensive practical test with its manufacturing focus on Escomatic machines.
The aim of the tests on Escomatic D2 machines was to demonstrate the enormous tooling cost savings under various production conditions. To this end, three different turned parts were machined in three different materials with Schwanog grooving tools. The head had to be converted to a hexagonal shaft for use on D2 and D4 machines - but this conversion is technically simple and requires only a small amount of expenditure.
TEST 1: MICRO-TURNED PART
MATERIAL: 1.4021 X20 CR13
In the first series of tests, a micro-turned part made of the difficult-to-machine material 1.4021 X20 Cr13 was machined on an Escomatic D2. With a tool life/tool of the Schwanog insert of 33,000 pieces compared to the Escostahl full-HM tool of 4,500 pieces, this test far exceeded the already high expectations. In addition, the Schwanog exchangeable inserts eliminated the cost of regrinding, resulting in a tooling cost savings of a healthy 96.89% in the real-world test.
TEST 2: SLEEVE
MATERIAL: 9SMN28K
In the second series of tests, a sleeve made of 9SMn28K free-cutting steel was machined. Although the series of tests revealed that the advantage was greatest for difficult-to-machine materials, this test also showed impressive benefits. Despite a reduced tool life/tool of 270,636 pieces compared to 540,000 pieces when using a full-HM tool Escostahl, there was a tremendous advantage because regrinding costs were not incurred. Thus, a reduction in tooling costs of 57.14% was achieved.
TEST 3: MICRO-PRECISION PART
MATERIAL: X5CRNIMO 1.4401
In the third series of tests, a micro-precision part of material X5CrNiMo 1.4401 was machined, a stainless austenitic chromium-nickel-molybdenum stainless steel, was machined. With this difficult-to-machine material, tool cost savings again jumped to a peak value of around 88%. The quality of the Schwanog exchangeable inserts was again impressive, with a tool life per tool of 83,000 pieces compared to 45,000 pieces in full-HM Escostahl.
.
As the test series impressively show, the Schwanog grooving tools on Escomatic machines offer impressive advantages and prove themselves with enormous tool cost reductions of often more than 90%.
In short: A head conversion is always worthwhile, because customers benefit from quality and productivity in a whole new dimension.
Wide Schwanog range of tools and holders for Escomatic machines
At the suggestion of numerous customers, we have further expanded our program in a focused manner, opening up a highly productive tooling solution for all Escomatic machines. In addition to the grooving tools, we also offer matching holders for all machine types at the same time, from the cam-controlled D2, D4 and D6 machines to the new D2/D5 CNC and NM New Mach machines.
Managing Director Clemens Güntert:
"The test series have shown that in principle you benefit considerably under all conditions. Very specifically, however, the more difficult the material to be machined, the higher the tool cost savings!"