13. April 2022
HydraSpecma in Sweden optimizes its productivity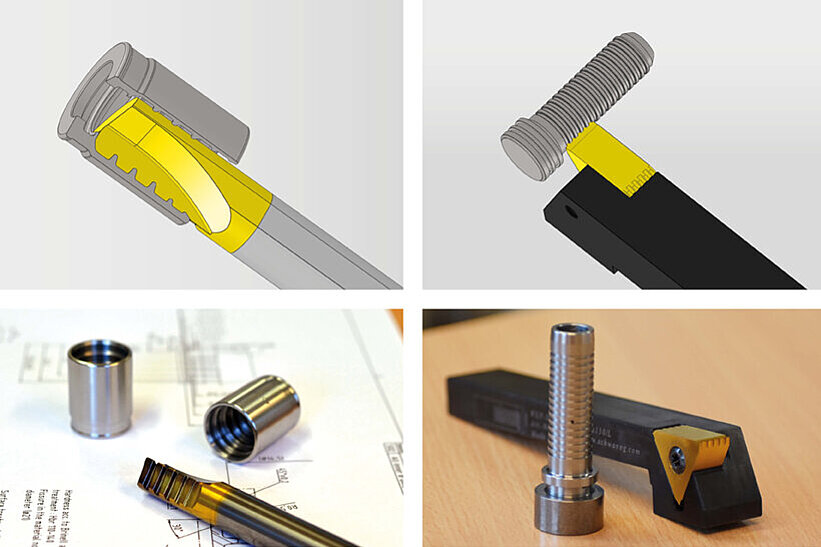 With a clear specialization strategy that focusses on the development and manufacture of hydraulic connectors, the HydraSpecma company in Sweden is on a path to dynamic growth. HydraSpecma employs around 1,100 people at its Våxtorp location and is part of the Denmark-based, listed group Schouw & Co.
The philosophy of the company is shaped by its drive for the ongoing optimization of productivity and processes, from development to prototyping, all the way up to production. Hydraulic connections for the assembly of hydraulic hoses that are individually adapted to various systems and components is the proven core competence of Hydra- Specma. With this specialization, the company is now one of the market leaders in Scandinavia and is also increasingly in demand in important global export markets.
Swiss turning as an important machining method
Fredrik Schoenbeck and Jacob Schoen are responsible for the production processes at the company, and they are currently expanding the manufacturing plant with additional swiss-type lathes and automation solutions.
Frederik Schoenbeck explains:
"Swiss turning is a central processing method within our production. We are currently using 17 STAR machines with a bar magazine and 17 multifunctional lathes from manufacturers such as MAZAK, OKUMA, MIYANO, and INDEX, which are fully integrated into fully automatic turning cells."
In 2021 alone, the company invested in several new automatic lathes and four new robot cells. More than 3,000 different products are manufactured every year, with around 200 items being continuously manufactured in larger quantities.
Increasing productivity is an ongoing task
The company's objective is clearly defined. With increasing quantities, production must be faster, and active measures need to be implemented to increase productivity over the long term. In the field of tool optimization, the company approached Schwanog. As a specialist for application specific tooling solutions, Schwanog enjoys an excellent reputation in Sweden as a productivity optimizer. Jonas Lund, who has been responsible for Schwanog's sales in Sweden for three years, met with Fredrik Schoenbeck and Jacob Schoen to discuss specific projects and productivity goals.
HydraSpecma needed optimization in terms of productivity in three specific applications. The possible solutions were quickly recognized by Jonas Lund, who then coordinated the detailed technical implementation with the Schwanog design team in Germany. Within just a few days, solutions were presented that led to impressive
results for HydraSpecma.
WEP system for external grooving
The Schwanog WEP system was used for external plunge cutting of grooves on a turned part. A special feature of the Schwanog WEP system is the design with three cutting edges. If the first cutting edge is worn, the tool can simply be indexed to the next edge and fixed by loosening asingle retaining screw. Due to the quick changeability of the tools and high repeatability, work can usually continue immediately during tool changeovers without readjustment of the tool. The WEP systems cutting widths ranges from 3.5 to 16 mm.
WSI system for internal grooving
With the WSI system, the internal contours of a specific turned part can now be manufactured much more efficiently by grooving instead of single-point turning. The Schwanog WSI system enables internal grooving, internal single-point turning, or both production steps in one operation. The tool holders include coolant-through and are available in metric and inch sizes. Diameters > 2 mm can usually be realized. The length of the internal grooving tools can be infinitely adjusted via an adjusting screw in the
Z-axis and thus can offer optimal stability and functionality during setup and tool changeovers. Repeatability of the WSI system is < 0.02 mm.
Solid carbide grooving tool
With Schwanog's solid carbide grooving tool, HydraSpecma was able to achieve the inner contour of a turned part much faster than before. Due to the cutting width, solid carbide was chosen for stability and space reasons. In addition to increasing productivity, quality also plays a decisive role in the further growth of the company. Since the products are used in environments where high hydraulic pressures prevail, HydraSpecma customers also demand the highest quality in products and production processes without any compromises. Schwanog also fulfills this requirement convincingly in all three applications.
The advantages:
Enormous time savings
Easy handling for the operator
Only one tool is now used for each turned part, whereas previously several tools were required
Only one measurement needs to be carried out
Jacob Schoen puts it this way:
"The Schwanog tooling systems have significantly improved our ability to reduce set-up times, improve quality, extend tool life, and at the same time make our manufacturing processes more efficient".