18. November 2022
Schwanog Selector-System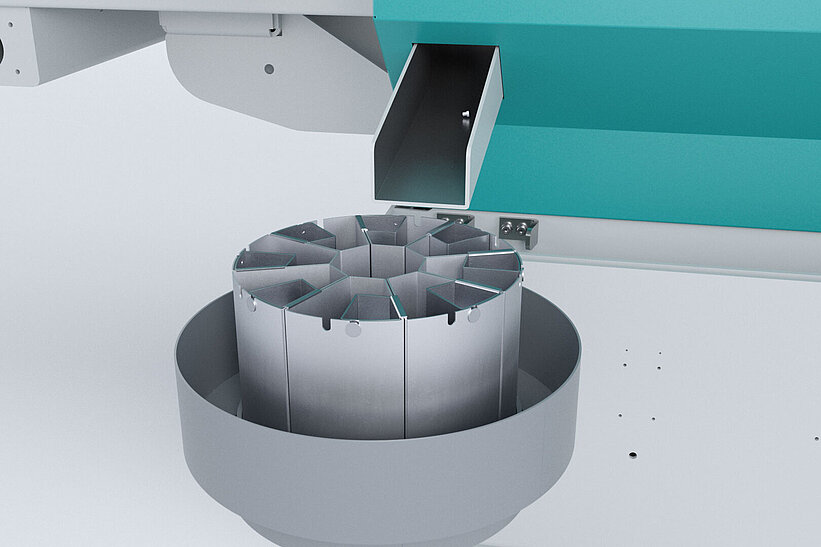 The market for precision parts in the supply chain industry of all sectors is mainly characterised by medium and large sized batches with the highest demands for quality and zero error tolerance.
The Schwanog parts selector divides loose production batches into bins consisting of eight smaller units.
In case of lights-out / unmanned production lines or production lines with limited personnel, sorting costs can be greatly reduced in case of tool break or other disruptive factors.
Function
Partition of loose production batches into smaller units through use of selector bins
Bin system with indexing table which are passed through the part chute of the production unit
Time or quantity-dependant indexing to respectively one bin
Inspection
Visual check / inspection of the produced parts in the last selector bin.
If these parts are accurate / in flawless condition, all other parts in the already filled seven other bins are correct / true to size as well.
If these parts are faulty / defective, you will exam the parts in the filled bins in reverse order until you find accurate / flawless parts.
This reduces the sorting to a single bin.
Normally this is a fraction of the production batch which is usually channelled into a part container.
Oil-filled, double bins
For jolts and scratch sensitive parts the use of over floating, oil-filled double bins offers a qualitative, safe solution.
Manufactured parts falling into the oil-filled bin, oil with its dampening effect due to its density, prevents qualityreducing jolts and scratches.
Increase your productivity: With the Schwanog Selector system!
Applications
Single-lathes
Multi-spindle automatic lathes
Swiss-type lathes
Rotary transfer machines
Punch and stamping machines
Gear cutting machines
Spring coiling machines