28. June 2022
Schwanog's 75th anniversary!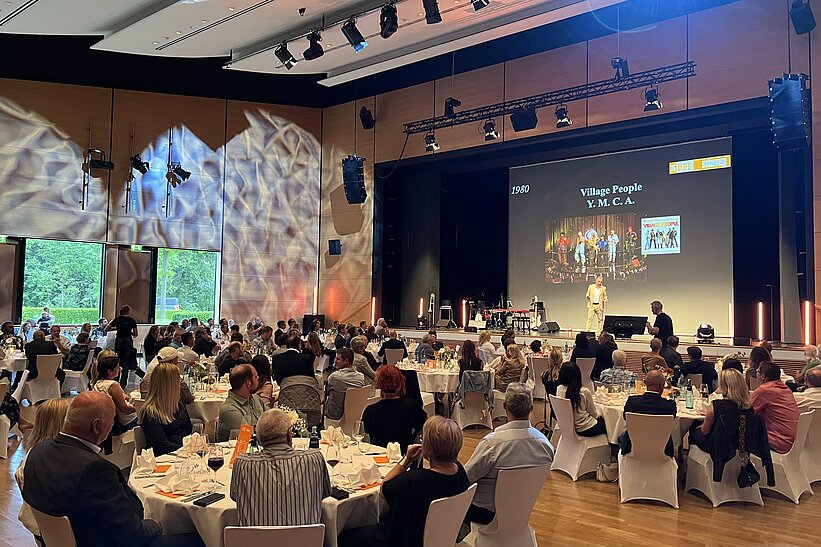 An Impressive Celebration at the Tonhalle in Villingen-Schwenningen:
SCHWANOG'S 75th ANNIVERSARY WITH GREAT PERFORMERS
The Tonhalle in Villingen-Schwenningen provided an impressive setting for our company's 75th anniversary celebration on 24 June 2022. We were quite pleased that our guests included not only our employees, their partners, and friends of our company, but also many colleagues from international Schwanog branches.
Many guests were thrilled to see old friends again – and thus the all-round ambience was exciting.
The comedian and cabaret artist, Heinrich Del Core, of TV and theatre fame in Germany, put on a delightful programme marked by an Italian light touch. He made us all laugh and was met with resounding applause.
The party band Soulmachine, a musical group from Rottweil, added an additional touch of merriment to our celebration with their cool sounds. After dinner, the 10-member band rocked the hall with its hot
sounds until late in the night. Even people known to be non-dancers were stepping to soul, funk, pop, and rhythm'n'blues.
We would like to thank all guests who contributed to a truly unforgettable evening in our company's history for their participation and positive energy.